Spoiler Alert: It's a Dramatic Improvement
Compared to a global pandemic, global warming, flu season, and more working and learning at home, the fact that the Environmental Protection Agency (EPA) ranks indoor air pollution as a top environmental danger to our health says something. In fact, studies report that indoor air can be two to five times more polluted than the outdoors.
Between winter coming and staying at home more due to COVID concerns, improving the quality of the air you and your family breathe while indoors is more important to good health than ever before. Many home and business owners are looking at air purifying options.
One of the easiest and effective solutions is an air scrubber.
An air scrubber is a small piece of equipment that attaches to your HVAC system. It purifies and protects the air. How well? An air scrubber destroys up to 99% of all surface and airborne contaminants.
What kind of surface and airborne contaminants?
Allergy/asthma triggering contaminants
Strep
Influenza
MRSA
coli
Swine flu
Staph
Norovirus
Does an air scrubber kill coronavirus? You can find articles saying yes and no. Given the importance of COVID in our community, we're going to say probably not, because hard evidence on a virus so new is difficult to come by. We'll share this Consumer Reports article to give you some food for thought. There are some manufacturers now stating their air scrubbers do in fact kill coronavirus.
How do air scrubbers work?
An air scrubber cleans air as it flows through the unit using technology named ActivePureTM. The "scrubbed" air travels through the ductwork and flows into every area of your home, cleaning and disinfecting problem areas such as doorknobs, bathrooms, pet areas, countertops, etc.
Another bonus in addition to cleaner air circulating throughout your home is that the air that enters your HVAC system is "scrubbed" first. Cleaner air in your HVAC system can prolong your unit's lifespan, as well as help prevent common problems associated with dust and dirt accumulation over the years.
What are the other benefits of installing an air scrubber?
In addition to destroying 99.9% of the harmful contaminants in your home in a mere 30 minutes, amounting to 50 times more powerful than a normal HVAC filtration system, an air scrubber tackles other indoor air pollutants, such as cigarette smoke, dust, mold, and pollen, along with vapors, VOCs, odors, and gases.
With these contaminants and pollutants killed or minimized, you and your family will benefit from fewer or no more sinus issues, fatigue, headaches, allergies, dizziness, coughs, nausea, and eye, nose, and throat irritation.
Have a specific question on whether an air scrubber is right for your family? Talk to one of our experts.
A claim to eliminate 99.9% of the harmful contaminants in your home in 30 minutes AND minimize dust, pet dander and lingering smells is begging to be proved. Researchers have answered that call, and there are numerous studies that back up the fact that an air scrubber delivers on its promises.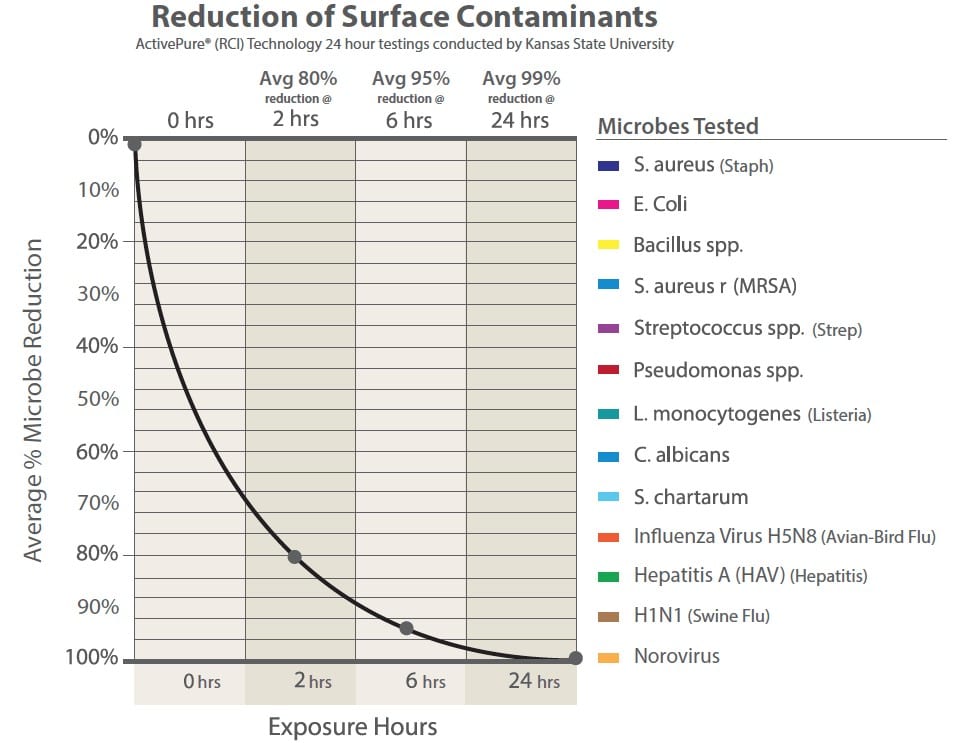 Is it difficult to install an air scrubber?
No. Between improving your indoor air quality, extending the life of your HVAC system and having the proof showing its effectiveness, installing an air scrubber is a smart and healthy investment. Installation is simple with the help of our HVAC technicians. A standard air scrubber installation involves cutting a square in your existing ductwork and mounting the unit above your HVAC's air handler. Once installed, your air scrubber begins improving your indoor air quality immediately.
Make a smart and healthy investment with an air scrubber
Now is the perfect time to invest in an air scrubber. Our HVAC technicians can install yours during your routine furnace maintenance appointment or any time you're ready. Contact us to learn more or schedule an appointment.